Anne Travers 'voicing victims' anger' over Mary McArdle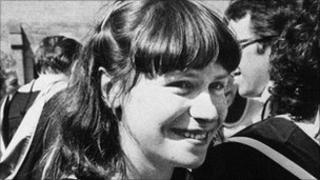 A victims commissioner has said the appointment of a convicted killer as a Sinn Fein adviser is indicative of the failure to deal with victims' issues.
Anne Travers has continued to call for the woman who killed her sister Mary in 1984 to resign from her Stormont role.
Commissioner Brendan McAllister said he understood the anger of the Travers family at Mary McArdle's appointment.
He added that society had removed the gun from politics but had not dealt with "the memory of the gun".
Mrs McArdle was part of an IRA gang which ambushed magistrate Tom Travers and his family as they left Mass shooting his daughter Mary dead.
The former prisoner was controversially appointed to a role as a special adviser at the Department of Culture, Arts and Leisure last month.
'Wounded memories'
In her first interview since the row began, Mrs McArdle said she regretted the murder and that it was a "tragic mistake".
Her comments have further angered Anne Travers, and Mr McAllister said she was giving voice to the feelings of many victims.
"They see political progress that jars in many ways against their continuing pain," he added.
"In the lives of ordinary people, we still have much work to do in the healing of wounded memories."
The Victims Commission was established in 2005 as one of a number of different initiatives intended to help deal with the wider legacy of the Troubles.
Mr McAllister said that politics needed to deliver a more comprehensive approach to the issue.
"What victims need fundamentally is recognition, they need due recognition of their condition (which) is that they carry the wounds of this society in the most personal way."