Robinson and McGuinness to attend talks in Scotland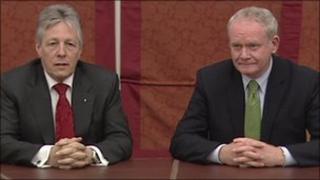 The first and deputy first ministers will meet their Scottish and Welsh counterparts in Edinburgh on Tuesday.
The trilateral meeting at Bute House will be hosted by Scotland's First Minister Alex Salmond and Deputy First Minister Nicola Sturgeon.
Peter Robinson and Martin McGuinness will attend along with the First Minister of Wales Carwyn Jones.
The talks will focus on areas where there is a "shared agenda" between the three regions.
It is thought the issue of lowering of corporation tax in NI, will be discussed along with broader economic issues.
Downturn
Constitutional reform of the House of Lords is also likely to be raised.
Sectarianism in Scottish football may also feature in the talks.
BBC NI's political editor Mark Devenport said it is the first time the leaders of the three devolved regions have met since the recent elections.
"The wider economy is bound to dominate with the Scottish First Minister Alex Salmond keen that his administration should have as many levers as possible to tackle the downturn," he said.
"With that in mind, Mr Salmond is looking enviously at the possibility that Stormont will get the power to reduce corporation tax to match the far lower rate in the Republic."
The trilateral meeting comes ahead of another gathering in London next month when the devolved leaders will put their concerns directly to David Cameron and Nick Clegg.