Care worker Patricia Young fails in legal bid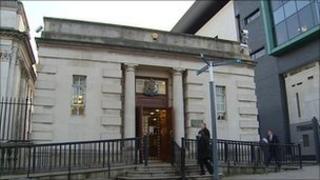 Judges have dismissed a legal challenge by a carer who originally pleaded guilty to ill-treating a pensioner.
Patricia Young wanted a review of a decision by the Director of Public Prosecutions to consent to fresh proceedings being brought against her.
The original case against her was deemed invalid because of an alleged oversight by the prosecution service.
Ms Young, 54, of Mandeville Avenue in Lisburn was charged with the ill-treatment of Ivy McCluskey, 70.
'Null and void'
The pensioner, who suffered from Alzheimer's Disease, had survived a stroke and lost her speech.
She died in 2009 after Ms Young had stopped caring for her.
Although Ms Young originally pleaded guilty the first case against her was dropped just as she was due to be sentenced in January.
At the time, her lawyers raised a legal issue about the validity of the proceedings.
They argued that the case was null and void because it did not comply with a requirement for the DPP to issue a consent notice.
The challenge on Tuesday centred on the lawfulness of the decision to issue a consent to initiate fresh criminal proceedings against a defendant.
With the former care worker now understood to be pleading not guilty to ill-treatment, a contested magistrates hearing is scheduled for June.
Satellite litigation
Because her application for leave to seek a judicial review is classed as a criminal cause or matter it was heard by a two-judge Divisional Court.
Refusing leave to continue her challenge, Lord Chief Justice Sir Declan Morgan said all of the issues could have been dealt with at magistrates level.
He said: "We consider that this is the correct forum in which the matters raised can and should be discussed.
"A single judge dealing with all of the issues in the criminal trial is the appropriate way forward."
Sir Declan, sitting with Mr Justice Treacy, expressed no view on the merits of the legal points advanced.
But dismissing the application, he added: "This is a matter which should not be pursued by way of satellite litigation."