Belfast City Council votes for rule change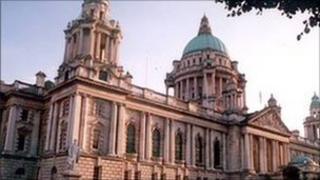 There has been a row at an emergency meeting of Belfast City Council over the way the top positions are allocated.
In future they will be handed out on the basis of party strength and not that of political groupings.
It followed a decision by the DUP and the Ulster Unionists to form a single group which meant it would have become the largest bloc on the council.
The largest party is Sinn Fein which has 16 seats.
In common with the Northern Ireland Assembly, Belfast City Council uses the D'Hondt system to decide how posts are divided out.
However, until now it was based on the strength of political groupings and not parties.
Unionists formed the single group as they claimed the council had become a cold house for them and they were not getting their fair share of posts.
However, the two nationalist parties, Sinn Fein and the SDLP, as well as Alliance, claimed the unionist move was undemocratic and not what the people of the city had voted for.
After an at times heated debate, the council voted 27 to 19 to change its rules so that in future the top posts will be allocated on the strength of political parties and not political groups.
It will meet again on Thursday to elect a new lord mayor.