Dublin-Monaghan bombings - 'no more files' says Kenny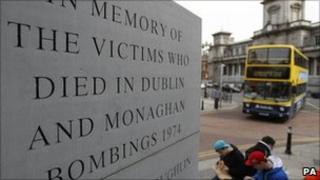 The information supplied by the British government on the Dublin-Monaghan bombings is all the relevant information they intend to supply.
Irish Prime Minister Enda Kenny made the announcement to the Dail (Irish parliament) on Tuesday.
He said he did not have the authority to instruct Britain to supply any other files they hold.
A total of 34 men, women and children, including an unborn baby, died in the loyalist attacks on 17 May 1974.
Some relatives of those killed in the attacks believe there was British state collusion in the bombings.
Mr Kenny met with Prime Minister David Cameron in Dublin last week and was expected to have raised the issue of the bombings.
On Tuesday, he told Fianna Fail leader Micheal Martin that Mr Martin would have been provided with similar information when he was minister for foreign affairs and he did not object.
Mr Martin said the position was unacceptable and he asked the taoiseach if he had expressed such sentiments to Mr Cameron.
He suggested the refusal to release documents was fuelling conspiracy theories about what had happened and that the taoiseach's response was weak and accused him of washing his hands of the issue.