NI progress source of hope says President Obama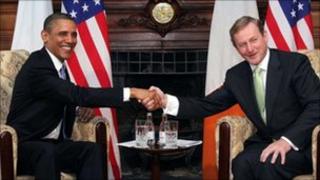 US President Barack Obama has said the progress being made in Northern Ireland and the recent visit of the Queen sends a ripple of hope to conflicts elsewhere.
The president made his comments in Dublin following a meeting with Taoiseach (prime minister) Enda Kenny.
Mr Obama and his wife Michelle are mid-way through their one-day visit to the Republic.
Air Force One touched down at Dublin Airport shortly before 0930 BST.
After meeting with Mr Kenny, the president said: "I want to express to the Irish people how inspired we have been by the progress made in Northern Ireland
"It speaks to the possibilities of peace and people in long-standing struggles to be able to re-imagine their relationships."
He added: "To all those who have been working tirelessly to bring about peace in Northern Ireland, to those who are willing to take those risks, we are grateful to them.
"We are proud of the part that America played in helping to get both sides to talk and to provide a space for that conversation to take place. We want you to know that we will continue to be there."
He also praised the symbolic importance of the Queen's visit to the Republic.
"To see Her Majesty, the Queen of England, come here and to see the mutual warmth and healing that took place as a consequence of that visit.
"To know that the former taoiseach Dr (Garret) FitzGerald was able to witness the Queen coming here, that sends a signal not just in England, not just here in Ireland but around the world," he said.
President Obama and his wife were greeted on arrival by Foreign Minister Eamon Gilmore and the US Ambassador to Ireland Dan Rooney.
They then travelled to the presidential residence, Aras an Uachtarain, where the couple met President Mary McAleese and her husband Martin before heading to Farmleigh to meet Taoiseach Enda Kenny and members of his Cabinet.