Rosemary Nelson Inquiry: 'no collusion' in murder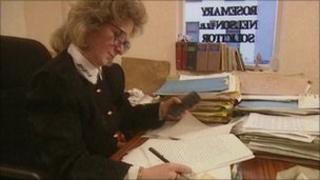 A public inquiry has found that state agencies did not directly collude with loyalists who murdered Lurgan solicitor Rosemary Nelson in 1999.
Secretary of State Owen Paterson told the House of Commons that there were failings in the measures taken to protect the lawyer.
He said that the government was "profoundly sorry" for these failures.
Mrs Nelson's family said the report showed that the response to threats to her was "inadequate and inefficient".
'Vindicated'
Her husband, Paul, said that the inquiry had vindicated his wife's belief that elements of the Royal Ulster Constabulary were unable to identify her as a professional lawyer and distinguish her from the alleged crimes and causes of her clients.
Mrs Nelson represented several high profile clients including prominent republican Colin Duffy and the Garvaghy Road Residents Association.
Loyalist paramilitary group, the Red Hand Defenders, claimed responsibility for killing her in a booby-trap bomb attack near her home.
For several years after the attack, Mrs Nelson's family campaigned for an inquiry, amid allegations that members of the security forces had threatened her prior to her death.
The inquiry report detailed how RUC members had "legitimised her (Mrs Nelson) as a target" by publicly abusing and assaulting her in Portadown two years before her death.
It added that officers within Special Branch and at RUC headquarters regarded Mrs Nelson as an active supporter of the IRA.
'Irritated'
It also said that "in assessing whether or not Rosemary Nelson's life was at risk, RUC Special Branch failed to take into account all the intelligence and the open information available to them".
The inquiry said that it could not rule out the possibility that rogue members of the security forces had been involved in the bomb attack.
On then RUC chief constable Ronnie Flanagan, who gave evidence to the inquiry, the report said that there was no evidence that he had expressed direct hostility towards Mrs Nelson.
It added that he "undoubtedly felt irritated" by the organisations campaigning on her behalf.
The inquiry has not made any recommendations despite having the power to do so.
Shadow Northern Ireland Secretary Shaun Woodward told the Commons that the report was "disturbing" and had raised serious issues about the police and Northern Ireland Office.
"This makes uncomfortable reading for both agencies," Mr Woodward said.
"Her death was not inevitable, the reduction in risk to her was not reasonable and there were failings in efforts to reduce the threat."
'Inadequate and inefficient'
Mrs Nelson's brother, Eunan Magee, told a press conference that Mr Paterson had "seen fit to gloss over" the findings and urged people to read the whole report.
"The inescapable fact is that Rosemary's life was threatened and the response from the authorities was wholly inadequate and inefficient," he added.
The inquiry was conducted by a panel of three: retired judge Sir Michael Morland, former chairman of the Board of Customs and Excise, Dame Valerie Strachan, and Sir Anthony Burden, former Chief Constable of South Wales police.
They were asked to determine "whether any wrongful act or omission by or within the Royal Ulster Constabulary, Northern Ireland Office or Army or any other state agency facilitated her death or obstructed the investigation of it".
They were also asked to consider whether whether any such act or omission was intentional or negligent, whether the investigation was carried out with due diligence and to make recommendations.
In September 1998, six months before she was killed, Mrs Nelson travelled to Washington and outlined her concerns while giving evidence to a US government committee hearing on international human rights.
In her testimony, she said she had begun to experience difficulties with the RUC while representing "clients detained for politically motivated offences".
Others also expressed concern, and called on the RUC and the government to take steps to protect her.