Altnagelvin Hospital to get radiotherapy unit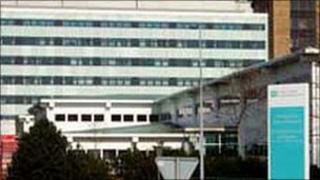 Plans for a radiotherapy unit at Altnagelvin Hospital in Londonderry have been given the green light by the new Health Minister Edwin Poots.
Mr Poots said any delay would miss a valuable opportunity to improve services for cancer patients. He said the unit would open in 2016.
He said personal stories of patients had helped him make up his mind.
"Following my consideration of the issues, I have decided that delivery of this is a high priority," he said.
"Cancer is not something we can be complacent about.
"Everyone in this chamber will know someone, either a family member, a friend or indeed themselves, who has been affected by cancer."
The centre was put on hold in March after the previous health minister, Michael McGimpsey, said there was not enough money in his budget to run it.
People in Derry have to make a 200-mile round trip to the cancer centre in Belfast for treatment.
However, completely reversing the decision, Edwin Poots confirmed that he will make the necessary funding to both build and run the service which will open in 2016.
There had been fears that due to financial constraints, the centre would be a lot smaller than what was originally planned.
However, the minister's announcement confirms that the original business case, known as OBC1, is the plan which will be implemented.
The cross-border initiative is being partly funded by the Irish government, which is contributing £19m.
The health minister said cancer is not something to be complacent about and he said the Western Health Trust would be starting work on the first phase of the project immediately.
"About 8,500 new cases of cancer are diagnosed each year in Northern Ireland.
"With an ageing population this number is likely to increase. By the age of 75 one in three of us will have cancer."
Within hours of being appointed Health Minister, Edwin Poots met survivors of cancer at Stormont.
Campaigners, known as The Pink Ladies, handed him petitions with thousands of names calling for the centre to be opened.
The minister then spent his first week in office meeting patients and medical staff at both Altnagelvin and at the Cancer Centre in Belfast.
Speaking to the Assembly on Monday, Mr Poots said: "The most powerful advocates were not the consultants or nurses, but two patients who were receiving radiotherapy treatment in the Belfast City Hospital, by far made the most powerful case for change.
"One lady explained how on a cold December day it took seven hours to travel to and from Belfast for 10 minutes treatment. Clearly such journeys are not conducive to the recovery process."
The establishment of this new facility in the north west will mean that 90% of patients in Northern Ireland will be within one hour's travelling time of a radiotherapy service.