Jedward among acts to perform for Obama in Dublin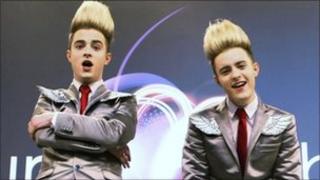 Irish pop duo Jedward will perform for the US president at a public event in Dublin on Monday.
Around 20,000 people are expected to attend to hear President Obama make a speech following the entertainment on College Green.
Mr and Mrs Obama arrived in Ireland for a two-day visit on Monday morning.
Jedward told BBC News: "We're very excited, it's an honour to perform for the most famous man in the world, after Simon Cowell that is."
'Who are they?'
President Obama and the first lady met President McAleese at the home of the Irish president shortly after their arrival in Dublin on Monday.
Mr Obama has met with Taoiseach (Irish prime minister) Enda Kenny and will visit his own ancestral home in Moneygall on Monday afternoon.
Identical twin brothers John and Edward Grimes, 19, rose to fame in the show X-Factor and have since gone on to represent Ireland in the Eurovision Song Contest.
They were placed eighth in the competition and their entry Lipstick has gone on to top the charts in Germany, Austria and Sweden.
Dublin City University student David Gilmartin, who will be attending the event, had a guess at how the president might react: "I think he'll just laugh at them," he said.
American student Colleen Warner from Washington DC is currently studying in Belfast. She was not so sure how the American audience would react: "I'm not sure, I've never heard of them, who are they?"
One twitter user is slightly more concerned about the weather. @JEDscarlett wrote: "Horrible day for visit of President Obama. Weather is also going to cause havoc with Jedward's hair."
Other acts believed to be performing at the event include Westlife and Imelda May.
The event will be open to members of the public and is free of charge. Tickets will not be required.
To facilitate the large number of people expected to attend, security gates will open at 1400 BST.
Members of the public are advised to enter the security gates at the intersection of Parliament Street and Dame Street in front of Dublin Castle.