Queen's visit to Ireland: a right royal farewell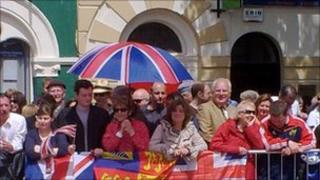 For the first two days of the Queen's visit to the Republic of Ireland, the focus was on the ceremonial and, in particular, symbolic gestures of reconciliation and recognition.
The second half of the trip may be less formal but each event has nevertheless been carefully chosen.
On Thursday, the Queen visited the National Stud in Kildare, which, given her own passion for horses, was probably one of the easier ideas when the itinerary was planned.
But it was not about just a good day out for the Queen. It also gave the Irish the opportunity to showcase one of its most thriving industries.
Tax breaks have attracted the owners of some of the world's most impressive thoroughbreds to Irish studs.
In some rural areas, breeding and racing is a key economic driver and in difficult times the Irish government wants to ensure that it continues.
Those economic issues also mean that Ireland needs more than equine visitors - tourists, with plenty of dollars, euros and pounds to spend, have to keep coming here in huge numbers to help pull the country out of the doldrums.
The Irish have certain advantages - the Queen alluded to one at the state dinner when she praised the country for its famous hospitality.
This trip is costing the Irish government 30m euros - a figure which some have criticised as unaffordable.
Tweets have bounced back and forth, arguing over the point.
One said that it was the equivalent of the poorest man in the village having the wealthiest around for dinner and encouraging him to eat everything in the house.
Rebel county
The government is taking the longer term view, arguing that the country will reap the benefits when the tills start filling up with those tourist dollars.
Certainly, it would cost a lot to buy the coverage that the visit is generating around the world.
Among those accredited at the media hub in Dublin Castle over the past few days have been representatives from Turkish television, Italian radio and American newspapers.
By inviting the Queen to the Rock of Cashel and the English Market in Cork, the Irish want to showcase attractions beyond Dublin to some of the readers and viewers of those foreign media.
Cork is seizing the opportunity with both hands. It is the capital of the rebel county, a hotbed of anti-British resistance during the War of Independence.
On a bright May morning, 90 years on, there is little sign of that resistance. A huge professionally made poster in the sparkling shopping precinct tells the Queen that she is welcome.
On top of the words is a picture of a crown.
Underneath the poster last night, a long snake of taxis waited for a fare. One driver told me that he had not met any locals who had an issue with the royal visit.
"You won't hear any taxi drivers complaining about more people coming into Cork."