Queen's County Kildare visit important for Irish racing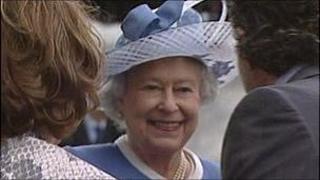 It may be less glamorous, less filled with poignant symbolism, but the Queen's visit to Kildare on Thursday is not without its own historical significance.
Indeed, the first ever steeplechase, now easily the most famous of British races, took place in Cork in 1752.
Yet it has been over 100 years since a monarch visited County Kildare, the home of Irish horse racing.
The last was in 1904, when King Edward VII announced his intention to attend the Punchestown National Hunt festival.
According to local Kildare historian Liam Kenny: "The town of Naas went into a frenzy of preparation. There were banners, floral arches, bunting of every kind highlighting royal and imperial symbols.
"The people worked themselves almost into a fervour of anticipation."
Racing Post
It is unlikely that there will be similar scenes of nationalistic ardour on Thursday.
Nonetheless, the Queen's visit to the Irish National Stud is an important one on her calendar, not least because of Her Majesty's love of racing.
It is said that the Queen's paper of choice over breakfast is the Racing Post.
Whether or not the rumour is true, the backing of such an important figure is welcomed by the racing community in Ireland.
"Well when the most famous woman in the world loves the sport that we're in, sure what can we do only crow about it?" said Ted Walsh, a well-known racing commentator and trainer.
Away from the history and symbolism, there is a thriving working relationship between the racing and breeding communities in Britain and Ireland.
There is a close link between Irish breeders and British buyers, and vice versa. For a start, the two nations share the same stud book, used for managing the selective breeding of horses.
'Close history'
"The people of course are what we share most," said champion trainer John Oxx.
"England is full of Irish jockeys, Irish trainers and Irish stable staff, so there's been a very, very close history there," he said.
Flat racing is the Queen's passion.
She has about 25 horses in training each season, based at the Royal Stud at Sandringham in Norfolk.
Indeed, she deliberately keeps her diary free every third week in June so she can attend Royal Ascot.
So whilst Her Majesty's visit to County Kildare may not be the most politically significant event of her Irish tour, it may at least be one of the most enjoyable.