Queen's visit to Ireland: Arrests at Dublin protest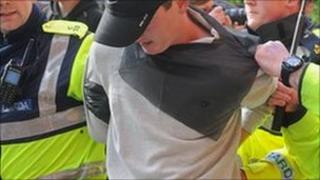 Several people have been arrested after rioting involving members of the 32 County Sovereignty Committee (32 CSM) and Irish police in Dublin.
Officers came under attack with stones and bricks on Nicholas Street, a short time before the Queen arrived for a banquet at Dublin Castle.
Five people were arrested and Gardai (Irish police) have corralled about 50 members of the 32 CSM against a wall.
Members of Eirigi, a republican group, are also staging a protest.
The Queen is on the second of a four-day visit to the Republic of Ireland.
There were some protests on the first day of her trip.
During the Queen's visit to the Garden of Remembrance, in Dublin on Tuesday, riot police officers jostled with demonstrators at two separate protests on streets several hundred yards away.
The garden is dedicated to people who fought for Irish independence from Britain.
As the Queen, with President Mary McAleese alongside her, laid a wreath in the garden, the sounds of protesters could be heard and black balloons were released by some demonstrators.
Broadcaster RTE reported that 20 men had been charged with public order offences on Tuesday night in relation to the afternoon's violence.
One of the country's biggest security operations is in place for the Queen's four-day visit.