Iris Robinson makes first public appearance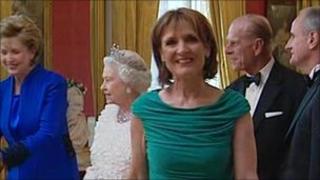 Iris Robinson, the wife of NI's First Minister Peter Robinson, has attended a state banquet for the Queen at Dublin Castle.
It is her first public event since withdrawing from public life.
Mrs Robinson resigned as an MP, MLA and councillor, following a BBC NI Spotlight programme in January 2010.
The programme said she acted illegally over money deals connected to a business being run by a man with whom she was having an affair.
Spotlight revealed she had obtained £50,000 from property developers for a business venture for her 19-year-old lover.
It was alleged that she failed to register the money, from two developers, at Stormont or Westminster, and that when her husband Mr Robinson found out about the money, he failed to alert the authorities.
The programme also said she failed to declare her interest when her young lover was awarded the cafe lease by Castlereagh council.
The PSNI's organised crime branch, which specialises in financial investigations, launched an investigation in January 2010.
Depression
In March 2011, the Public Prosecution Service said that "following careful consideration of all the available evidence, a decision has been taken not to prosecute in this case".
Days before the programme was broadcast, Mr Robinson gave an interview and said his wife had tried to kill herself while suffering depression after she had an affair.
A few days later it was revealed that Mrs Robinson was receiving "acute psychiatric treatment" at a clinic in London.
She returned to Northern Ireland in September 2010 where she continued to receive medical treatment.
Mrs Robinson was invited to the wedding of Prince William and Kate Middleton in April, but her husband, Peter said that she was not "yet ready to take on that kind of event".
The Robinsons were married in 1970 and have three grown-up children.