NI house prices fall in University of Ulster study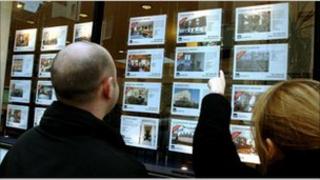 House prices in Northern Ireland are still falling, according to a study released on Thursday.
The latest University of Ulster quarterly house price index shows that value of the average house is down 15% in the last year.
Since the peak of the housing boom in the third quarter of 2007, its estimated that house prices have fallen on average by 42%.
Some house types are losing value more than others.
Terraced and town houses fared the worst, with their values plummeting by more than a quarter in the past year.
One of the reasons for this, the authors of the study said, is because of the number of re-possession on the market.
The study also showed that the market varied considerably across Northern Ireland.
There were lower declines and evidence of stability in some areas in and around Belfast, and in Lisburn, whilst pricing remained more volatile in provincial areas.
Increased sales
Although prices are still falling, the survey says that there has been an increase in house sales in the first quarter of this year.
The number of transactions recorded by 110 estate agents between January and March rose to 925 compared with only 684 in the last quarter of 2010.
Alan Bridle, UK economist at the Bank of Ireland, admitted the outlook for 2011 was "likely to remain challenging".
However, he said there was still cause for hope: "While there is no certainty we have yet reached the absolute trough, it is clear the residential market is now more affordable and more aligned to incomes."
"More positively the pressure for immediate interest rate rises has dissipated," he added.