Supreme Court extends McCaughey and Grew IRA inquest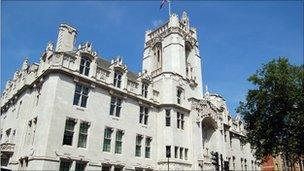 The Supreme Court has extended the scope of an inquest into the killings of two IRA men in 1990.
Martin McCaughey and Dessie Grew were shot dead by British forces near Loughgall in County Armagh.
The court said there had been allegations that the men were victims of a "shoot-to-kill" policy.
As a result, judges ruled the coroner's inquest must examine the "planning and control of the operation", as well as the causes of death.
Relatives of Mr McGaughey and Mr Grew sought a ruling by the Supreme Court - the highest court in England and Northern Ireland - after disagreements about the scope of the inquest.
Lord Phillips, president of the Supreme Court, said a coroner must comply with human rights legislation which protects the right to life.
He therefore obliged authorities to carry out "effective investigations" into the circumstances of the deaths.
The legislation in question is Article Two of the European Convention on Human Rights.
This article protects a person's right to life, and sets out a number of strictly controlled circumstances in which killing may be justified.
The European Court of Human Rights has ruled that states have a duty to investigate suspicious deaths, and determine whether they comply with human rights legislation.
The Supreme Court decided, with a majority of six to one, that the inquest must comply with European legislation and "thereby extend to the planning and control of the operation that led to the deaths".
Lord Phillips added: "It would not be satisfactory for the coroner to conduct an inquest that did not satisfy the requirements of (European law) leaving open the possibility of the (relatives) making a claim against the United Kingdom before the (European) court."
Mr McCaughey and Mr Grew were allegedly killed by members of the SAS on 9 October 1990.
Lawyers for the families say the shootings were part of a series of incidents which led to allegations that British security services were operating a "shoot-to-kill" policy.
A Northern Ireland coroner has held a preliminary hearing, although a date for the full inquest has yet to be confirmed.