Golf star Darren Clarke buys passengers drinks on plane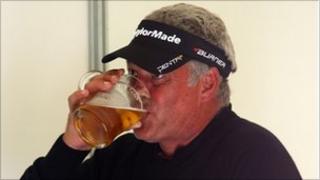 Golf star Darren Clarke bought an entire plane full of passengers a drink to celebrate his recent Iberdrola Open success.
Fresh from the competition in Majorca on Sunday, Mr Clarke declined his usual private jet, and boarded his first ever Easyjet flight from Palma to Belfast.
Not content to drink alone, he spent some of his €166,660 (£146,920) winnings on a round for everyone on board.
Mr Clarke was joined on the flight by fellow Irish professional Shane Lowry.
He wrote on his personal blog: "Coming back home on Sunday night from Mallorca the option of taking a private flight back home was negated by the fact that there was a 9.30pm Easyjet flight direct to Belfast.
"This was a virginal experience for me flying with this notorious airline - thankfully Shane Lowry was on board along with a few of the caddies so we had a bit of fun and a couple of celebratory drinks - we all got involved and I treated all the passengers on board to a drink!"
Mr Clarke has been no stranger to the occasional libation in recent weeks, having just returned from a three-week trip to the Bahamas with family, including his girlfriend, former Miss NI Alison Campbell.
Indeed, Mr Clarke went as far as to say that the Caribbean getaway may have been the source of his success.
"The break did me the world of good and I played very nicely in Mallorca after not really knowing what to expect after relaxing and recharging the batteries in the Bahamas," he wrote.
Mr Clarke has been living in Northern Ireland now for almost a year, after moving home from Surrey last August with his children Tyrone, 12, and Conor, 9.
His win in the Iberdrola Open was his 13th on the European Tour, and his first since success in the KLM Open in 2008.
Maybe we could organise a whip-round and send him back to sunnier climes before the next Ryder Cup?