Two men deny murder of Constable Stephen Carroll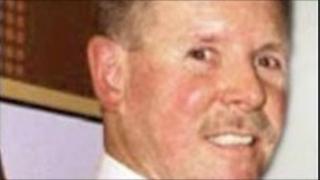 Two men have appeared in court charged with the murder of Constable Stephen Carroll in 2009.
Former Sinn Fein councillor Brendan McConville, 39, and John Paul Wootton, 19, denied the charge.
They also pleaded not guilty to possession of the assault rifle which was used to shoot Constable Carroll in the back of the head.
Constable Carroll was the first police officer to be killed since the formation of the PSNI.
Mr McConville, from Aldervale, Tullygally, also denied two charges of having explosives, including firework fuses, composition and pieces of shotgun cartridges, with intent to endanger life, and two counts of having the items under suspicious circumstances.
The charges relate to incidents between 11 October 2006 and 11 October 2007.
Mr Wootton, of Collingdale, Lurgan, also denied that he attempted to collect information which would be useful to terrorists relating to the home address of a serving police officer, on dates between 10 January and 10 March 2009.
Mr Wootton's mother, 38-year-old Sharon Wootton, pleaded not guilty to a charge of perverting the course of justice between 8 March 2009 and 20 October 2009.
She is accused of giving false information to police and removing "a computer or computers from her home address believing her home address might be searched and the said computer or computers seized by police".
Constable Carroll was nearing the end of a 12-hour shift in March 2009, when he was sent to a 999 emergency call in Lismore Manor, Craigavon.
He was shot in the head as he sat in the driver's seat of his police car.
Constable Carroll's murder came just two days after the Real IRA shot dead two soldiers outside Masereene Barracks in Antrim.
Both Mr McConville and Mr Wootton were remanded in custody, whilst Ms Wootton was released on continuing bail.
The judge said he would review the case in the new term this September.