Old Bailey bomber Marian Price charged over rally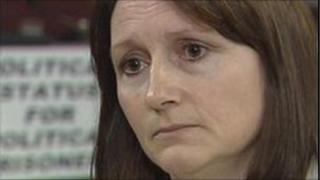 A woman has been charged with encouraging support for an illegal organisation following a dissident rally in Londonderry.
Marian Price, 57, is secretary of the 32 County Sovereignty Movement, a political group linked to the Real IRA.
At the rally a man read a statement saying dissident republicans would target more police officers.
Ms Price was jailed for the IRA bombing of the Old Bailey in the 1970s, and is due in court on Monday.