Lough Erne resort must be a 'going concern' says Foster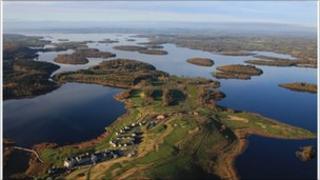 Former tourism minister Arlene Foster has said the Lough Erne golf and hotel resort in County Fermanagh should be sold as a going concern.
The hotel - which is a major employer in Fermanagh - was placed in administration on Thursday.
The five star hotel and golf resort opened in October 2007, but has been in financial difficulties.
The DUP MLA said she wants to see the employees being put first.
"I spoke to the owner of the hotel, Jim Treacy, yesterday and I know that he wanted very much to continue to try to find solutions, but the bank felt that they wanted to call in the administrators and I very much regret that, " she said.
"What we must do now is to continue to have stability for the resort because it does provide a lot of employment for County Fermanagh.
"It is really the jewel in the tourism crown as far as Fermanagh is concerned and indeed I would argue, very much the west of Northern Ireland."
John Hansen and Stuart Irwin of KPMG, who have been appointed joint administrators, said it was their intention to secure future bookings for the resort and ultimately to sell it as a going concern.
Catastrophic losses
Mr Hansen said they would maintain "business as usual", honouring bookings for weddings and golfing breaks.
He added that they wished to keep the "workforce intact".
The administrators also said that they had appointed an experienced hotel operator to assist them in the ongoing management of the resort.
The 59-bed five star hotel features an 18-hole PGA golf course designed by Nick Faldo, a restaurant and a conference centre and spa and leisure centre.
It also includes 28 golf lodges leased back from investors and 30 holiday homes.
Owner Jim Treacy is a successful retailer with businesses on both sides of the border.
Some of the borrowings relating to the resort are secured on Mr Treacy's main retail business, a Supervalu at Churchtown in Dublin.
It means he could now face losing control of that too.
The bank which funded the resort, Bank of Scotland Ireland (BoSI), no longer exists. It was shut down by its parent company, Lloyds, after suffering catastrophic losses on property loans.
Its loan book is being wound down by a company called Certus.
Speaking to consultancy firm BDO last year Mr Treacy said: "Things have been difficult but since we've opened we've seen a 50% increase in year-on-year revenues, up from £3.9m in 2008 to £8.5m expected in 2010.
"This is primarily made up of accommodation, food & beverage, spend on weddings, golf and spa. We don't want one market or product to dominate any of our revenue streams."