Derry men Supreme court ruling: more claims due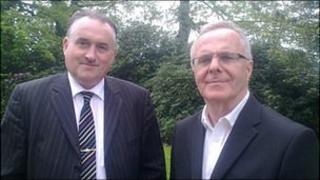 A number of compensation claims are to be advanced after a landmark Supreme Court ruling in favour of two men whose murder convictions were overturned.
The Department of Justice will be urged to consider payments to at least five others following the decision.
Sinn Fein MLA Raymond McCartney and journalist Eamonn MacDermott were jailed for life for the murder of an RUC officer in Londonderry in 1977.
They spent 17 and 15 years respectively in prison but were cleared on appeal.
'Narrow definition'
The pair claimed they were victims of miscarriages of justice and were wrongly refused compensation after their convictions were overturned.
Their lawyers argued that a narrow definition which requires claimants to prove demonstrable innocence in order to receive compensation had wrongly been adopted.
In a ruling with potentially far-reaching consequences for prisoners across the UK, the Supreme Court said the new test should ensure defendants found not guilty were not prevented from obtaining compensation because they cannot "prove their innocence beyond reasonable doubt".
Among those waiting for the verdict was west Belfast man Christy Walsh, whose conviction for having explosives was overturned following an unprecedented third appeal.
The 47-year-old was jailed for 14 years for allegedly possessing a coffee-jar bomb when stopped by soldiers in Belfast's Lenadoon district in 1991. His conviction was ruled unsafe in March 2010.
Another similar case involves former leading republican Danny Morrison and seven others whose convictions for kidnapping an alleged British agent were quashed in 2008.
Mr Morrison, the ex-Sinn Fein director of publicity, was sentenced to eight years in jail for the false imprisonment of Alexander (Sandy) Lynch by the IRA in Belfast in 1990.
But judges ruled on appeal that the guilty verdicts against him and the other seven could no longer be regarded as safe.
'Huge implications'
Solicitor Kevin Winters, who represents Mr Walsh and four of the men who were convicted alongside Mr Morrison, said on Wednesday that the Supreme Court ruling would have huge implications for a number of people.
He confirmed that the Department of Justice was to be contacted about their outstanding claims.
Mr Winters said: "They were cleared by the Court of Appeal, that was the first stage of their battle for justice.
"The second stage of that battle relates to the compensation issue which was parked pending this judgment.
"They are now, in my view, able to proceed immediately. We will be asking the Department of Justice to give urgent consideration to the assessment of their entitlement to compensation for the years they spent in custody."