Mary Byrne to sing for Queen in Dublin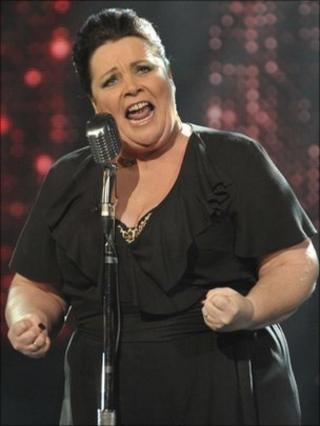 The X Factor finalist Mary Byrne will sing for the Queen during the four-day royal visit to Dublin next week.
The Irish boy band Westlife has also been chosen to perform at a concert held to mark the first visit to Ireland by a British monarch for 100 years.
More details have been released about the visit, which begins on Tuesday.
On the final night of the trip, the British Embassy will be hosting a concert in Dublin city centre which will include a Riverdance performance.
It will also include contributions from Mary Byrne, Westlife and the traditional Irish music group The Chieftains.
Mary Byrne said: "What an honour it is to be asked to sing in front of The Queen. I am so excited, and a little nervous to be honest.
"This is a dream come true, to be able to perform for somebody I have respected and admired for so long. I am thrilled."
Irish stars
The Queen and the Duke of Edinburgh will both attend the event, as will 2,000 guests.
The UK Ambassador in Dublin, Julian King, said: "I am delighted that so many Irish stars are joining us to celebrate the Queen's visit to Ireland.
"The Queen and the Duke of Edinburgh, together with President McAleese and 2,000 invited guests from across Ireland, will experience the best of Irish music, dance, theatre and fashion in a unique event to mark the visit."
During the evening there will be a fashion show of established and up-and-coming British and Irish designers, including designs from John Rocha, Victoria Beckham and M&S.
It was announced earlier this year that the four-day visit will include a ceremony at Ireland's Garden of Remembrance and a state dinner at Dublin Castle.
The Queen will also visit Croke Park Gaelic sports stadium, Trinity College Dublin, the Guinness storehouse and the Irish National horse stud in Kildare.
She is also expected to travel to Cashel and Cork.
The last British monarch to visit Dublin was George V in 1911, which was before Ireland gained independence.