Jedward 'favourites for Eurovision'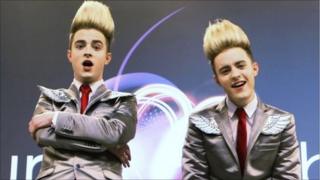 Bookmakers Ladbrokes has said there has been a surge in betting on Jedward to win this year's Eurovision song contest.
The company said odds on the Dublin twins to win the event have dropped from 25/1 to 8/1 in just 24 hours.
In February, the Lucan duo - John and Edward Grimes - beat four other acts on RTE's Late Late Show to go though to the semi-finals of the contest in Dusseldorf this month.
The first semi-final takes place on Tuesday night.
Jedward perform their song Lipstick in the second semi-final on Thursday, while the final is on Saturday.
Ladbrokes says the Dublin double act have topped internet searches for Eurovision 2011 against their competitors.
Should the data searches for Jedward correlate with points, Jedward would be the winners with 209 points, while Germany would be the runners up with a score of 154.
Hayley O'Connor of Ladbrokes said: "The public's fascination with Jedward has ignited the betting and we're being knocked over by punters wanting to back the twins.
"We had originally chalked them up as 25/1 outsiders but the money has be coming in thick and fast and their odds may well take another plunge in the market should this level of support continue."