Party leaders meet to discuss new assembly executive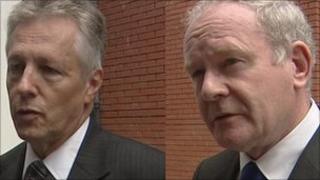 The leaders of the main Stormont parties are expected to meet later for an exploratory discussion about the formation of the executive.
Meanwhile, counting is continuing in the local government elections and should end later.
A number of councils were still counting votes in the early hours of the morning.
As the counting goes on, the council elections have revealed a similar picture to the assembly poll.
The DUP and Sinn Fein are still well in the lead, while the SDLP and the Ulster Unionists have seen their vote dwindle.
Sinn Fein has taken control of Magherafelt council, whilst in Downpatrick one unsuccessful SDLP candidate, Peter Fitzpatrick, called for the leader, Margaret Ritchie, to step down.
In Belfast, the Ulster Unionists lost out to a surge from the Alliance Party, prompting senior member Basil McCrea to say the party faced serious questions about its strategic direction.
Although the DUP won back seats from the TUV in places like Ballymena, in Peter Robinson's stronghold of Castlereagh the party lost overall control following gains by Alliance and the Greens.
The DUP responded by announcing a formal pact with the Ulster Unionists on the council.
Whilst the DUP may be unwilling to share power in Castlereagh, its leader is now setting about the job of agreeing how to share out ministerial posts at Stormont.
An informal discussion between the parties is expected later.
Depending on how much progress is made, the formal appointment of ministers could take place as early as Thursday.