David McClarty says call for him to remain independent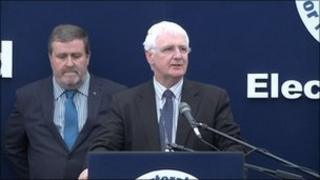 The East Londonderry MLA David McClarty has said a lot of people have contacted him to say they want him to stay as an independent and not rejoin the UUP.
Mr McClarty resigned from the party in January after his deselection by his constituency association in September last year.
The party want him to re-join the UUP.
If he does, the UUP would be given a second executive seat at the expense of Alliance, under the system of allocating ministries.
Mr McClarty, who has also been elected as an independent councillor in Coleraine, said he had been thrust unintentionally into the spotlight.
"The result was an outstanding result from my own personal point of view, but it is one that has created a situation, unbeknownst to myself, that I am being turned kingmaker at the present time," he said.
"A position that has been thrust upon me, I know decisions will have to be made, and I will make those decisions, not for David McClarty, but for the people who elected me."
Mr McClarty said his phone had been "red hot" and text messages had been coming through "thick and fast", along with many emails.
The East Londonderry MLA said he had been inundated with messages from people saying they did not want him to return to the UUP.
"I have read every one of those, and I have gauged how they feel from those messages," he added.
'Deliberate'
He said he was going to "recharge the batteries" for a few hours before making his decision before Thursday.
"I will then begin the process of deliberations, not just on my own, but with family and with trusted friends, so that I can come to the right decision," he said.
"The decision will not be for David McClarty's sake, it will be based on what the people who elected me would want from me."
At the time of his resignation he said it was a "very difficult decision" to leave the party, and stressed that he did not have "an issue with the party generally".
He described it as "one of the saddest episodes in my life".
Mr McClarty was one of the party's longest serving MLAs. He was elected to Coleraine Council in 1989 and the assembly in 1998.
He was one of a number of high profile party members to resign from the UUP.
In December 2010 Harry Hamilton, who stood in the general election in Upper Bann became the third in three months to quit the party.
His move followed resignations by Paula Bradshaw and Trevor Ringland who were also Westminster candidates.