East Belfast murals show UVF men with machine guns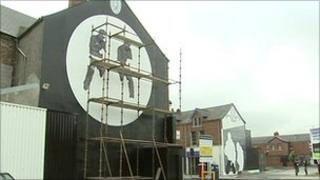 Murals depicting loyalist paramilitaries holding machine guns are currently being painted in east Belfast.
The paintings are located on the corner of Dee Street and the Newtownards Road.
Locals have expressed concern about the images, which disrupt an ongoing trend of rebranding east Belfast's murals to reflect symbols of cultural heritage, such as the Titanic and George Best.
The murals are currently work-in-progress, but are nearing completion.
The paintings recall a violent past that many in east Belfast are keen to forget.
One image is being painted on top of an existing tribute to local football club Glentoran FC, which itself was commissioned as part of the drive to rid east Belfast of contentious violent images.
Newly elected Alliance Party MLA Chris Lyttle said that although he had not yet seen the murals, he was "extremely disappointed".
"A lot of work has been done in the area with Belfast City Council on reimaging communities to produce murals that are culturally relevant, positive and building a united community.
"The election demonstrated that people want to build a united community in the area," he said.
One of the murals faces the Megain Memorial Church of the Nazarene. Rev Ivan Miles told the BBC that the images were "not representative of what people want to see taking place".
"A lot of people in east Belfast had hoped we were moving along a little bit," he said.
"This really doesn't help the cause of Northern Ireland to show people that we can live together and live at peace.
"The idea of balaclavaed men with machine guns doesn't really talk about peace and reconciliation. I think they need to change their message."
However, one local, who declined an interview and did not wish to be named, described the paintings as "great".
He believed they were a response to the dissident republican threat, as well as being an important symbol of east Belfast's cultural heritage.