Out with the old and in with the new at Stormont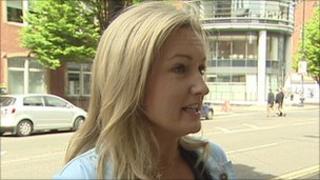 A week may be a long time in politics, but in the case of the assembly elections, it was a long weekend.
Counting began on Friday morning but the final make up of MLA's returning or arriving was not known until Saturday evening.
One new face in the assembly is Brenda Hale. She won a seat for the DUP in Lagan Valley.
She was motivated to stand after the death of her husband, Captain Mark Hale, in Afghanistan, two years ago.
"I discovered through issues that I had with the MOD after Mark's death that I had a voice," she said.
"I was able to speak on behalf of other widows who were not able to at that time, and I'm very happy to be able to use it now for the people of Lagan Valley."
Another female newcomer to the assembly is Sandra Overend. The daughter of outgoing UUP MLA Billy Armstrong, she won his seat in Mid Ulster.
"While I have been involved in the UUP all my life, I had never really anticipated going into political representation myself until quite recently," she said.
Do my best
"I was always happy enough to be working behind the scenes.
"I'm really pleased I got so much support here in Mid Ulster. I'll endeavour to do as good a job as I can."
Jo-Anne Dobson is also making her debut in Stormont. She won a seat for the UUP in Upper Bann.
Former television presenter and journalist, Mike Nesbitt was elected to represent the UUP in Strangford along with David McNarry.
Alliance's Anna Lo won a seat in South Belfast. She will be joined in Stormont by party colleague Judith Cochrane who secured the party a second seat in East Belfast.
Traditional Unionist Voice leader Jim Allister will be representing his party for the first time in the assembly.
He has vowed to be a "thorn in the side" of Sinn Fein and the DUP.
Green Party leader Stephen Agnew snatched a seat in North Down to keep his party at Stormont.
While many familiar names have been re-elected, some failed to retain their assembly seats.
One of the most high profile names not returning to Stormont is the UUP MLA Fred Cobain.
He lost his seat in North Belfast to newcomer Paula Bradley from the DUP.
Another well-known name who will not be back is Dawn Purvis.
The former PUP leader was elected as an assembly member in East Belfast in 2007.
Boundary changes
Following the murder of loyalist Bobby Moffett, she resigned as party leader in 2009 and sat in the assembly as an independent unionist.
"It's very disappointing for me and I'm very disappointed for my team and all those who campaigned on my team," she said.
"I know we fought a good campaign, a positive campaign, we campaigned on the right issues, unfortunately the vote didn't come out as we hoped."
Ms Purvis said she has concerns that issues such as educational disadvantage and services for mental health in the community will be over-looked in working class areas without her representation.
"I hope that in whatever I do in the future, I can help lobby or press on those issues because those communities now, I feel, don't have a voice."
The SDLP's Declan O'Loan lost his seat in North Antrim. He said recent electoral boundary changes had not helped.
"Moving about 2,000 nationalist votes into East Antrim always was going to make it very difficult," he said.
"We didn't win and there's nothing for it, but to accept that defeat magnanimously and recognise that others have succeeded.
"I think it's a great regret there isn't an SDLP representative here in North Antrim at assembly level, that's the first time for many years that that's been so."
His colleagues Thomas Burns and Tommy Gallagher also lost their seats in South Antrim and Fermanagh and South Tyrone.
While the newcomers prepare to take their seats, the main parties at Stormont are examining the political landscape following the results of the assembly vote.