David Ford says Alliance Party is entitled to ministry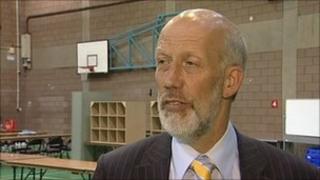 The Alliance Party leader David Ford has said he believes his party is entitled to a ministry when the D'Hondt mechanism is triggered at the assembly.
In the last assembly, Alliance held the justice portfolio following a cross-community vote procedure introduced in the Hillsborough Agreement.
It has picked up eight seats in the Assembly poll and the figures suggest it will now get a ministry by right.
Mr Ford said using the D'Hondt system was not his preferred option.
"We have a set of rules and according to those rules at the moment, it looks like Alliance is entitled to one of the other ten ministries and then I might or might not be elected as justice minister," he added.
Alliance has exactly half the total of seats on which the Ulster Unionists finished.
BBC Northern Ireland political editor Mark Devenport said that under the D'Hondt system, the UUP would get one department but when its turn came for a second pick, its seats would have half the value.
"So it's 8 versus 8. At this point the tie breaker is how many first preference votes each party received, with the UUP vote tally also being halved," he said.
"According to this method, Alliance is also ahead, so should take its first ministry before the UUP get a chance for a second."
Mr Ford said there were "huge vagaries" in the D'Hondt system.
"We've seen it in every one of the assemblies as to how it would work out in different ways," he added.
"I don't think it's a particularly proportional system. It's not my preferred choice but it's what the constitution says."
There is speculation that the Ulster Unionists might try to retain their second ministry by bringing David McClarty, who was elected as an independent, back into the party fold.
He was previously an Ulster Unionist MLA but fell out with the local constituency party after he was de-selected.
He has refused to be drawn on whether he will be tempted back into the UUP fold.
He said: "I am elated at having achieved the victory and I will take time to enjoy the experience.
"At this stage I am not about to make any decisions whatsoever and I will take a day or two so that I can recover from the exertions of the campaign."