Electoral chief defends staff over results delays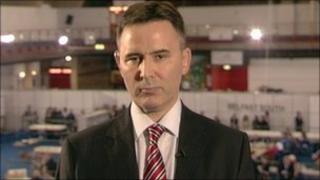 The Chief Electoral Officer has defended his staff in the face of mounting criticism over delays in the Assembly election count.
Counting began at 0900 BST on Friday but the first results were not announced until just before 1900 BST.
Graham Shields said accuracy was more important than speed.
However the DUP's Nigel Dodds said the electorate "deserved better" while Sinn Fein's Martin McGuinness said the delays would have to be investigated.
The first indication that there were problems emerged in early afternoon when counting in the UK-wide Alternative Vote Referendum was delayed.
Mr Shields said the suspension was ordered by the Electoral Commission because the verification of votes had not been completed in three constituencies.
He said his team was subsequently given the green light to proceed but that a delay was possible.
When counting had still not resulted in any declarations by early evening, criticism from politicians began to mount.
The outgoing Speaker of the Northern Ireland Assembly, the DUP's Willie Hay, questioned why it was taking a lot longer here than in other parts of the UK.
Mr Hay said that after the election, a system must be put in place to get quicker results.
"It's the system," he said. "We need a better system."
Among the various issues which emerged throughout the day were problems with a computer which affected counting in Omagh while ballot boxes got wet and hair dryers had to be brought in, also in Omagh.
It could be Saturday evening before the final results are known.