Green Party leader Steven Agnew reacts to leader debate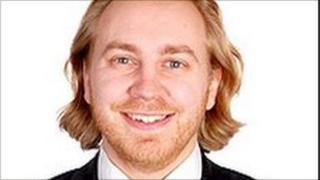 Green Party leader Steven Agnew has said the party is opposed to an increase in university fees.
He was speaking in response to the final leaders debate before the Northern Ireland Assembly election.
The Green Party is fielding six candidates in the assembly elections on 5 May.
Among other issues, it is promising to protect the public sector, back political reform and oppose any increase in university fees.
Mr Agnew told the BBC that he found Peter Robinson's remarks on funding for higher education "very interesting".
"Right at the start, Peter Robinson admitted that higher education wasn't a priority for his party," he said.
"I found that very interesting because I have been saying that under this current budget there are two choices, you either put up university fees or you cut university funding meaning a reduction in the quality of university education."
Mr Agnew said the Green Party's position is that the budget needs to be reallocated.
"More money needs to be put into higher education so that we can keep fees at their current level but ensure that when students do get to university they're getting a high quality education," he said.
"I think the current budget means that fees have to go up, but the DUP and Sinn Fein have said they won't do that so I think that they're admitting that they're going to cut university funding, therefore they're going to lower the quality of our university education.
"I think that's a big mistake, particularly when they're talking about rebalancing the economy and groups like the CBI are coming out and saying the most important thing for their companies when they're looking to invest in Northern Ireland is the high education and skills quality of the workforce."
'Single issue'
The Green Party leader said while "a number of parties" agreed that the Northern Ireland Assembly needed to move toward a system of voluntary coalition, such a move would need the consent of voters.
"We're talking about quite major changes to the Good Friday Agreement, which ultimately was the people's agreement," he said.
"So I do think the political parties do need to agree reforms for Stormont so that it can be made to work more effectively.
"Some 72% of the people of Northern Ireland voted in favour of the Good Friday Agreement, so that if we're looking to change the institutions we have to ask their permission to do so."
Mr Agnew said that the constitutional question was not one which divided the party.
"We have people in the Green Party who are unionists, we have people who are nationalists, we see no contradiction there," he said.
"It shouldn't divide our politics because it is a single issue and it certainly shouldn't decide our society.
"We need to move forward into a shared future, the issue of the constitutional question is enshrined in the Good Friday Agreement. The status of Northern Ireland will remain until the people of Northern Ireland decide otherwise."