NI Apprentice Jim Eastwood competes for Lord Sugar job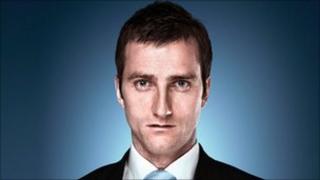 He was an All-Ireland cycling champion in his youth and claims Richard Branson as his business idol.
But will Cookstown man Jim Eastwood emulate the Virgin mogul's success, or will he soon be asked to get on his bike?
All will become clear as the new series of The Apprentice arrives.
Mr Eastwood, 32, is a sales and marketing manager, and is only the second candidate on the show to come from Northern Ireland.
The first was Ben Clarke, a trainee stockbroker from Belfast, who in 2009 made it as far as week nine of the show before he was 'fired'.
In a statement that recalls the infamous self-assuredness of Mr Clarke, Mr Eastwood said: "I'm not a show pony or a one-trick pony, I'm not a jack-ass or a stubborn mule, and I'm definitely not a wild stallion that needs to be tamed.
"I am the champion thoroughbred that this process requires."
His participation in this year's series, along with 15 other candidates, was announced on Tuesday.
The series will differ slightly from previous years, as there is no longer a six-figure salary job on offer.
This year The Apprentice meets Dragon's Den, as the prize will be a £250,000 investment for the winning candidate to start their own company, with Lord Sugar as a business partner.
Fish 'n' Chips
In his biography on the show website, Mr Eastwood describes himself as "driven, self-motivated, resilient and an eternal optimist".
His business life began chipping potatoes in his father's fish and chip shop, aged nine.
He then attended St Mary's Grammar School in Magherafelt, and went on to study at the University of Ulster.
Despite his success as a sales and marketing manager, Mr Eastwood may find himself chopping potatoes again sooner rather than later.
In this year's opening episode, Lord Sugar seeks to test the candidates' entrepreneurial skills by providing them with £250 to invest in a range of fruit and vegetables, which they must turn into lunchtime snacks to tempt London's hungry workforce.
Will Mr Eastwood's culinary skills be the stepping stone to a winning performance, or will he be forced to come home early with a chip on his shoulder? We will have to wait and see.
Season seven of The Apprentice begins on BBC One on Tuesday 10 May at 2100 BST.