Last cigarette... airport charges smokers for that last minute drag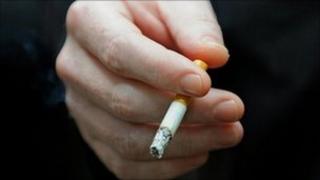 A final cigarette before that flight? It comes with a price tag at Belfast International Airport.
Smoking is a real drag at the airport where smokers must pay £1 to smoke a cigarette in a designated area. It is thought to be the first airport in the UK to introduce such a charge.
Smokers are asked to put a coin into a machine which opens doors to a special smoking area.
It already costs £1 to drop travellers at the airport.
There is another £1 fee for a pack of plastic bags to get through security.
Entrance to the special smoking area costs £1.
The airport said it was responding to customer demand and the fee was covering the cost of building the smoking area.
But two passengers - Mark and Phillip - believe the airport is exploiting smokers' pre-flight cravings.
"I've been to other airports and I've never had to pay," said Mark.
"You had to pay £1 into a machine and the door would open into the smoking area. We talked to other smokers and they didn't like having to pay £1.
"It was a small room, 10ft by 6ft. They seems to have wire mesh on either side and it was probably about two storeys up."
He said charging smokers was exploiting their addiction.
Philip, a non smoker, said Mark's face "lit up" when he thought he could smoke before their flight.
"'We've got an hour and I'm going for a smoke' he said. But he stormed back and said: 'I'm not going for a smoke, you have to pay.'"
Travel writer Geoff Hill said imposing such fees seemed like "death by 1,000 small cuts".
"I get the feeling that people are going back to airlines where the travelling is part of the enjoyment of going away on holiday," he said.
In a statement, the airport said: "We recognised that there was a demand for a smoking facility from some customers, given that all public places (including airports) are now, and have been for a number of years, non-smoking.
"We are responding to that demand.
"However providing a specialist facility for a relatively small number of users is expensive to build and to maintain, so it is not unreasonable that a small charge should be levied for the use of the facility."