Carrickfergus a 'Royal stronghold' for 1,000 years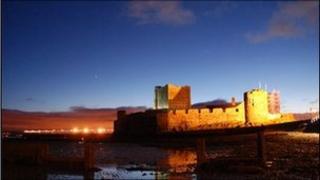 The designation of Prince William as Baron Carrickfergus links the heir to the British throne to Northern Ireland's oldest town and one identified with the English crown for almost a thousand years.
The name means 'Rock of Fergus' in honour of Fergus Mac Eirc, a sixth century king of Dalriada which straddled Ulster and Scotland.
Legend has it that Fergus brought his coronation stone to Scotland from whence it was removed to Westminster Abbey, scene of today's royal nuptials.
The town is dominated by the great stone fortress built by the Anglo-Norman knight, John de Courcy in 1180, as the centre of his Earldom of Ulster.
This made Carrickfergus the only English stronghold north of 'The Pale' in the middle ages.
Moated by the sea on three sides, the castle was enlarged by Hugh de Lacy in the 13th century and had a stirring history of siege and military occupation.
It was captured by Edward Bruce in 1316, recaptured by the English and taken by General Schomberg for King William III who landed there in 1690.
'Military stronghold'
In 1760 the town was attacked by the French under Admiral Thurot who held it for a week.
From the late 18th century until the second World War the castle served as a British military stronghold, armoury and prison.
While the ancient walls have been obliterated by war, the Parish Church of St Nicholas dates from the 12th century.
This Anglo-Norman building retains a 'Lepers' Window', recalling that in the middle ages Carrickfergus had a lepers' hospital outside the walls.
The church contains the tomb of the architect of the Ulster Plantation, Sir Arthur Chichester (1563-1625), Governor of Carrickfergus and founder of Belfast.
The town is also associated with the Irish poet, Louis MacNeice whose father was rector there.
The ancestors of the US President, Andrew Jackson (1827-37) also hailed from Carrick.
Carrickfergus remained the epicentre of English royal power in Ulster until the early 1700s when it was finally eclipsed by Belfast.
It was an important centre for man-made fibres until recently.