Government urged over new reactors at Sellafield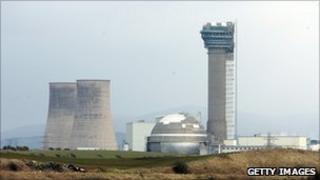 A new generation of nuclear reactors should be built at Sellafield, according to the leaders of Cumbria County Council.
The are urging the government to press ahead with plans for new reactors which would recycle mixed plutonium and uranium oxide fuel (Mox).
Most of the UK's plutonium is already stored at Sellafield.
A Mox plant at Sellafield would provide around 5,000 construction jobs and ongoing plant employment.
The call was in response to a government consultation on how the UK's 112-tonne stockpile of civil separated plutonium should be managed.
Cumbria County Council says the government should "consider the case for constructing one or more dedicated Mox burning reactors on available land beside the Sellafield and NuGeneration Ltd sites".
Sustainability assessment
It also urged the government "to now undertake a full generic sustainability assessment for public examination that sets out the case for plutonium recycling."
Other options on how plutonium stocks should be managed are to continue to store them overground or immobilise them and dispose of them in an underground geological facility.
Estimates suggest there is sufficient plutonium in the UK stockpile to supply two new reactors, of the type currently considered for construction in the UK.
Tim Knowles, Cumbria County Council's cabinet member responsible for environment, said: "Using the existing stocks as an asset rather than a liability makes sense environmentally, economically and from a safety and security perspective.
"The skills exist in Cumbria to construct a new generation of reactors to take Mox fuel and it is a proven and available technology that offers greater certainty of success than the other options on the table."