Belfast's Lyric Theatre reopens with The Crucible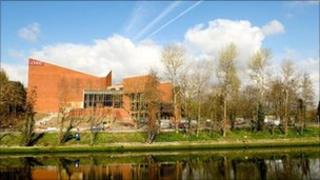 Belfast's newly-rebuilt Lyric Theatre is set to open later on Friday for its first performance.
A gala performance of Arthur Miller's 'The Crucible' directed by Conall Morrison will be the first production.
The new theatre cost £18m to re-build, of which £6m came from private donations and sponsorships.
It was constructed on the Lyric's existing site in Stranmillis on the banks of the River Lagan.
The new development includes a 389-seat main auditorium, a new studio, dedicated youth and education space and improved facilities for staff and artists.
The funding campaign for the building began in 2003 and was backed by Belfast-born actor Kenneth Branagh and Ballymena's Liam Neeson among others.
The original theatre opened on the Lisburn Road in 1951 and moved to premises on Ridgeway Street about 20 years later.
However, ongoing problems with the building and dated facilities led to a decision to close it.
In 2003, the Lyric held an international architectural competition and selected O'Donnell and Tuomey from 56 entries as the architects to design the new theatre facility.
At almost three times the size of the old theatre, the new building is 54,164 square feet (5,026 square metres) and has three distinct areas.
'Cultural ambition'
The main performance area has an extra 90 seats.
A second performance studio will accommodate between 110 and 172 people and can be adapted to suit any performance style.
The third space is a rehearsal room the same size as the main auditorium stage.
Other facilities include an education suite, green room, dressing rooms, board room, backstage facilities, box office, cafe/bar and River Terrace.
Lyric Chairman Mark Carruthers said the project was never "about just bricks and mortar".
"We were always focussed on a bigger vision - a new landmark building which would be both functional and handsome, certainly - but more than that, we wanted to build a real home for everyone with an interest in theatre, and one that will play a central role in the cultural and economic development of Northern Ireland," he said.
John Tuomey said the architects set out to design a building "specific to the spirit of a producing theatre".
"We hope that it will soon feel not so new, rather that it will be recognised as continuing the cultural ambition of the Lyric," he said.
Several generations of local talent have come through the Lyric since its inception in 1968, including actors Liam Neeson, Ciaran Hinds and Adrian Dunbar, and writers Patrick Galvin, John Boyd, Martin Lynch and Marie Jones.