Ronan Kerr family pays funeral tributes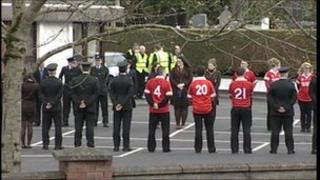 The family of murdered PSNI officer Ronan Kerr have placed a notice in Belfast's morning newspapers thanking those who helped with his funeral.
The 25-year-old Catholic constable died when a booby-trap bomb exploded under his car in Omagh earlier this month.
In the notice, his mother Nuala, brothers Cathair and Aaron, sister Dairine and wider family expressed their "heartfelt thanks".
They paid special tribute to the roles of the GAA and the PSNI in the service.
The two organisations held an unprecedented joint guard of honour for Constable Kerr at the funeral in Beragh, County Tyrone.
It was attended by political leaders from across Ireland including Northern Ireland First Minister Peter Robinson, Deputy First Minister Martin McGuinness, NI Secretary of State Owen Paterson and Irish prime minister Enda Kenny.
'Support and comfort'
"Thanks to family friends and neighbours and to Ronan's friends and colleagues who were all a great source of support and comfort and who helped in so many ways at this time," the acknowledgement said.
"We pay special tribute to the PSNI, family and district liaison team who assisted and guided us through difficult tasks associated with Ronan in a dignified and respectful manner.
"We give special thanks to the GAA at both local and county level for their support and contribution during this difficult time."
It went on to pay tribute to politicians and church leaders, including Cardinal Sean Brady for his "strong and moving plea to the congregation and wider community".
It also gives special thanks to those who attended to Constable Kerr following the attack, including the fire service, PSNI and ambulance service.
The notice added that it is being issued on behalf of members of the Kerr family across Ireland and around the world, including those in London and Canada.
A month's mind mass for Constable Kerr is due to be held in the Church of the Immaculate Conception in Beragh on 3 May.