Stormont gates blocked in Red Sky protest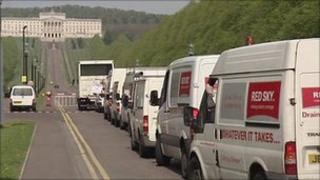 The main gates at Stormont were blocked during a protest by employees of a construction firm whose maintenance contracts were cancelled by the Housing Executive.
A number of vans blocked off the entrance on Wednesday.
Red Sky's contracts with NIHE were cancelled over concerns about work practices.
It has now gone into voluntary administration.
Red Sky workers were also involved in a protest outside the Housing Executive's office in Adelaide Street in Belfast on Wednesday.
They handed in a letter for Social Development Minister Alex Attwood at Stormont.
Red Sky carried out work on NIHE properties in the greater Belfast area.
A spokesperson for BDO, the administrators for Red Sky, said: "Working with the management of Red Sky our focus is on keeping the business viable and therefore retaining the maximum number of jobs at the company.
"To that end we are continuing our discussions with suppliers and customers.
"Today's demonstration by a number of Red Sky employees is not one which was in any way sanctioned by management and the administrators."
Contracts
Last Thursday, following an investigation, the Housing Executive announced it was terminating the contracts with Red Sky, believed to be worth £8m.
Red Sky rejected the investigation's findings. It said the action was "sudden and unexpected".
In a statement the Housing Executive said: "Our primary concern will be to provide the ongoing repair maintenance service that our tenants require.
"We already have contingency measures in place to ensure that these maintenance services continue as normal.
"It should, however, be noted that our contract with Red Sky Group is due to continue for a further three months within the notice period advised.
"We appreciate that this is a difficult time for the Red Sky Group and their workforce and the Housing Executive will work closely with those managing the current process to address issues as they arise."
Red Sky said the move left the company with "no alternative" but to go into administration.