Paul McCloskey v Amir Khan fight decision 'disgraceful'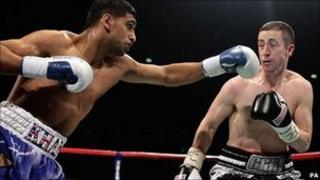 Paul McCloskey's boxing promoter Barry Hearn has criticised the referee's decision to stop the match after an injury.
McCloskey is demanding a re-match following his World title bout with Amir Khan in Manchester on Saturday.
The boxer received a cut above his eye, and in consultation with the doctor, the referee stopped the fight.
The three judges then agreed, unanimously in favour of the defending champion Amir Khan.
Mr Hearn said it was a "disgraceful decision".
"I've been in this game for 25 years, I've seen thousands thousands of fights and I've never in my life seen a fight stopped for such an innocuous cut, especially bearing in mind it's a world title fight," he said.
"The referee has bags of experience, I don't know about the doctor, I don't know why he was called in quite frankly.
"The ultimate responsibility is the referee's. This referee has done 40 or 50 world title fights. I've seen other fights he's refereed with far more significant cuts that have been allowed to box on."
Amir Khan's father Shah Khan said it was up to the referee and the doctor to make the decision to stop the fight.
Investigation
"The official's there and the doctor's there for a reason I'm sure and it's not for us to make that decision," he said.
"If the fight had been very, very close I think a lot of people would have been very, very disappointed, but the fight was a one-sided fight - Amir had won all six rounds.
"You don't know what would have happened if he'd continued to fight, Paul might have got worse."
Mr Hearn said who was ahead in the fight was besides the point.
"I cant tell you Paul was definitely going to win because I don't know, but what we do know is we've been robbed of a great fight, we've been robbed of a proper conclusion," he said.
"Five thousand fans came over from Ireland, they paid their expenses, they bought their tickets and they were robbed.
"This type of decision can't be allowed to stand."
Mr Hearn said the British Boxing Board of Control have confirmed there will be an investigation into the fight and he said he had also contacted the World Boxing Association (WBA).
"We are absolutely looking for a rematch and if we don't get a rematch I'd expect Amir Khan to vacate his title and Paul to go for it again," Mr Hearn added.