Enda Kenny to raise 50-50 PSNI recruitment with Cameron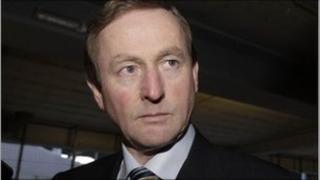 The issue of 50-50 recruitment to the PSNI is expected to be raised by the Irish premier Enda Kenny when he meets Prime Minister David Cameron on Monday.
Nationalist politicians are opposed to the ending of the policy and Mr Kenny has pledged to discuss it with the PM.
BBC NI Dublin reporter Ken Murray said it was likely to be the only contentious issue on the agenda.
The two leaders are also due to discuss the Queen's impending visit to Ireland during the Downing Street talks.
The UK's contribution to the EU bail-out to the Irish Republic will also be raised.
Mr Kenny and Mr Cameron have already spoken on the fringes of EU summits but Mr Kenny's visit to Downing Street is their first formal meeting.
He told the Irish parliament last week that he would discuss 50-50 recruitment amid nationalist concern that the decision to end it will undo the increased Catholic representation within the police service.
The two premiers also held discussions following the murder of PSNI constable Ronan Kerr and our reporter said that they will be united in their determination to counter the dissident republican threat.
Last week, Irish police investigating dissidents raided a number of properties in the north inner-city in Dublin.
In January, nine mortars as well as equipment suspected of being used to manufacture bombs was recovered from a farm in County Kildare.