Southampton service marks Titanic sinking anniversary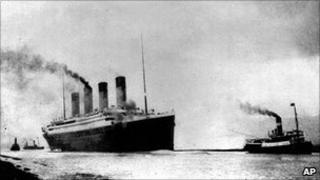 A service to mark the 99th anniversary of Titanic disaster has taken place in Hampshire.
The Archbishop of Armagh led the annual memorial service in Southampton to those who lost their lives on the ill-fated liner on 15 April 1912.
Relatives of those who died were among the congregation at St Mary's Church.
The Titanic Society also took part in a ceremony onboard Blue Funnel's vessel Ocean Scene when a wreath was dropped into Southampton Water.
The White Star Liner RMS Titanic, which was built in Belfast, sank after striking an iceberg.
The disaster claimed the lives of 1,517 people.
The archbishop, the Most Reverend Alan Harper, was in Southampton to honour the links between Belfast and Southampton.