Good Vibrations shop in Belfast set to close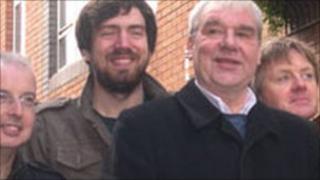 The Good Vibrations record shop in Belfast is to close, its owner Terri Hooley has revealed.
Mr Hooley said the iconic punk-era record label would continue, but that trading conditions meant it was time to "call it a day" for the shop, which first opened in 1977.
It began in Great Victoria Street and has had a number of locations in the city.
It reopened in Winetavern Street in 2008 after an absence of 16 years.
Mr Hooley said:"We have had several different premises, we are very happy with the premises we have in Winetavern Street, but unfortunately business is dead.
"When we opened the first three months were fantastic and then all you heard was recession, recession, recession.
"Our business has just died and died, it couldn't get any worse at the moment."
The original Good Vibrations shop was at the centre of the Northern Ireland punk scene in the late 1970s, and was a magnet for bands such as The Undertones, Stiff Little Fingers, The Outcasts and Rudi.
The launch of The Undertones single, Teenage Kicks, was a turning point for the Good Vibrations record label.
DJ John Peel, one of the most influential names in the music business, played the single twice in one night on his Radio One show and he became a staunch supporter of the label.
In the past, Mr Hooley has recalled John Peel's first visit to the record shop.
"When Peel made his first pilgrimage to Good Vibes with Kid Jensen he told us that he couldn't believe that all this great music was coming out of an office that was the size of a dinky phone booth," he said.
Gary Lightbody, frontman of Snow Patrol, has described the punk scene at that time as the most important period in Northern Irish music.
In 2008, former US President Bill Clinton wrote to Mr Hooley, praising his role in promoting alternatives to violence.
Mr Hooley has run various music shops in Belfast over the years.
Many items of Good Vibrations memorabilia were destroyed in a fire at North Street Arcade in Belfast in 2004, in which he had a music outlet.