Antrim alerts: police say five pipe bombs found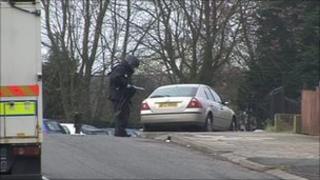 Five pipe bombs have been found during two separate security alerts in County Antrim.
Police have confirmed that two viable pipe bombs were found by Army bomb experts at Fairview Parade in Newtownabbey.
Twenty homes were evacuated during the alert, but police said residents are now able to return.
Meanwhile, three pipe bombs were found during a security alert in Donegore Drive in Antrim.
Another object was examined near a GAA club on Dunsilly Road in the town. It was found to be a piece of tubing containing a firework.
Police in Antrim also carried out searches at Cullnafeigh Green and Massereene Gardens following reports devices may have been left in the area. However, nothing suspicious was found.