Red Sky construction firm in administration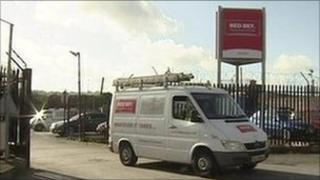 The construction company whose maintenance contracts were cancelled by the Housing Executive over concerns about work practices has gone into voluntary administration.
Red Sky carried out work on NIHE properties in the greater Belfast area.
Last Thursday, following an investigation, the executive announced it was terminating the contracts, believed to be worth £8m.
Red Sky rejected the findings. It said the action was "sudden and unexpected".
In a statement the Housing Executive said: "Our primary concern will be to provide the ongoing repair maintenance service that our tenants require.
"We already have contingency measures in place to ensure that these maintenance services continue as normal.
"It should however be noted that our contract with Red Sky Group is due to continue for a further three months within the notice period advised.
"We appreciate that this is a difficult time for the Red Sky Group and their workforce and the Housing Executive will work closely with those managing the current process to address issues as they arise."
Red Sky said the move left the company with "no alternative" but to go into administration.
Staff were informed of the decision on Tuesday. Accountancy firm, BDO, has been appointed as administrators.
In a statement, a spokesman for Red Sky said: "While our bank continues to be very supportive, the sudden and unexpected action by the Northern Ireland Housing Executive has left the directors of Red Sky with no alternative but to voluntarily put the business into administration.
Breathing space
"In our view this action is in the best interests of the company and the employees and is the most realistic means by which Red Sky can continue as a going concern, following this temporary measure. That is our overriding priority.
"Employees across the Red Sky Group incorporating Bel Air Refrigeration Ltd, have been informed of this decision this morning (Tuesday)."
Michael Jennings joint administrator from BDO said that they would immediately engage with Red Sky employees, the bank, suppliers and customers including the NIHE.
Earlier, a spokesman for Red Sky said this was "very much regarded as a temporary measure for the company." He said it was about giving them "breathing space" and that they hoped to keep the business going.
Following a 2010 BBC investigation into Red Sky's activities, the housing body ordered a top-level inquiry into the contractor's work.
Last Thursday, the executive said it could confirm that the inquiry had highlighted what it called "significant concerns about the company's performance, including overcharging", but it refused to give further details.
It also confirmed the executive's contracts with Red Sky would end in three month's time.
In response, Red Sky said it was "absolutely clear that the allegations are without substance and are prepared to demonstrate this if necessary in a court of law".
It added: "Red Sky is at a complete loss as to why NIHE has elected to act in this way and is seeking legal advice as to recourse for significant damage to its business."
The company said Red Sky Group, and the jobs of its 400 employees in Belfast, had been put at risk.