Cyclist killed in collision on Ormeau Road identified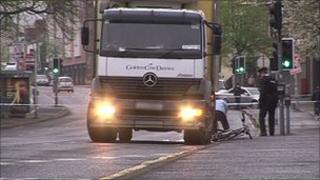 A cyclist who was killed in a collision involving a lorry in Belfast has been identified by police.
The man died following an accident on the Ormeau Road at the Annadale/Ormeau junction at about 0630 BST on Friday.
Annadale and Ormeau Embankments and Ormeau Road, which were closed in both directions, have now reopened.
Police appealed for help in identify the victim, who was aged 40-50.
He was later identified.
"Police have now positively established the identify of the cyclist. However, his details are not being made public at this time at the request of his family."
An investigation has been launched.