Glentoran helped African street child reach Serie A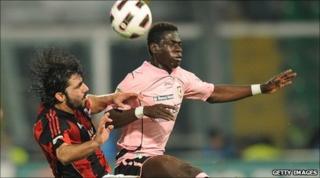 Danny Blanchflower, Jimmy McIlroy and Peter Doherty are just some of the footballing talents Irish League club Glentoran have given to the world.
But it could be argued that an African teenager now playing in the top division in Italy is the brightest star of all.
For Afriyie Acquah had been living on the streets when the Glentoran Academy in Ghana took him under their wing.
In February, he made his league debut in Serie A for Sicilian club Palermo against Fiorentina, after signing a four-year deal earlier this season.
His story is one which reflects the Glentoran motto - Le Jeu Avant Tout (The Game Above All) - in its truest sense.
Homeless
The Glentoran Academy was the brainchild of Christopher Antoh Forsythe, a homeless boy from Ghana adopted by a Belfast school teacher, who developed a love for the east Belfast team.
He later returned to the Ghanaian city of Sunyani to establish the academy to help street children.
"The guy who set up the academy, Christopher Antoh Forsythe, had been adopted by a head teacher from Belfast, he supported Glentoran in the late 1990s when Roy Coyle was manager," Sam Robinson of the Glentoran Community Trust said.
"He later went back to Sunyani in Ghana, he had been a street kid there and felt a compulsion to go back and do something, he set up the Glentoran Academy.
"He approached Glentoran and we sent a lot of kit to start with, there wasn't enough money to sustain the academy.
"As the rent for it was prohibitive, the Glentoran Community Trust stepped in, we raised money and got 100 kids sponsored by the academy.
"We paid the rent of the academy and part of the food bill, we did that for two and a half to three years.
"Afriyie was sponsored by a Glentoran supporter in Belfast who is half-Italian, so it is a quirk of fate that he has signed for Palermo."
Afriyie had joined the academy, which is still run by Mr Forsythe under the auspices of the Sillsport Group, in 2005, and two years later he got the chance to train with Glentoran's first team in Belfast as its star pupil.
He stayed with Mr Robinson during his two week spell in the city, who said his skills were evident immediately.
"When he trained with our first team, he was very comfortable on the ball, he was a class apart," he added.
"Glentoran's chief scout Billy Spence said he was the brightest star ever to wear a Glentoran shirt."
Mr Robinson is still in regular contact with Afriyie, and says his good-natured attitude has not changed despite his success.
"When he stayed with me in Belfast he played with my kids and he always asks about my two boys," he added.
"He is a lovely lad and is well-rounded.
"I am gobsmacked at his rise, I always knew he would play at a high level, but to go to Serie A and walk into the Palermo first team is incredible.
'Fairytale'
"In the latest photo he was playing with Gennaro Gattuso of AC Milan, just over three years ago he was training with our under-15s at Avoniel Leisure Centre in Belfast.
"He will play for the Ghana national side in the next two years and I have no doubt at some stage you will see him in the Premiership in England.
"The way he has gone on is magnificent, it is a fairytale."
Glentoran themselves are no strangers to a helping hand and earlier this year they were saved from extinction thanks to a donation of £450,000 from a mystery benefactor.
The greatest irony is that if they wanted to sign Afriyie now, they could not afford his wages.
"In the transfer window there was talk he might have been put on loan, he phoned us and asked about the possibility because he looks on Glentoran as a second home," Mr Robinson added.
"Now he is out of our league."