Ulster Teachers' Union calls for selection tests to end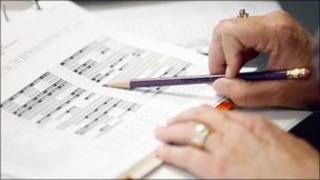 A teachers' union is calling for an end to the unofficial selection tests for grammar schools in NI.
The Ulster Teachers' Union said school staff are forced to prepare for the exams because parents demand it.
It describes the unregulated entrance exams, now going into their third year, as a discredited system which skews the teaching in primary schools.
The UTU said it expects members to vote for a halt to the current tests.
The union is calling on school principals to talk to each other to find a way to bypass the political stalemate and find a solution themselves.
Delegates at the Ulster Teachers' Union annual conference will also debate the effect of untrue allegations against teachers on Thursday.
It said 97% of claims under child protection turn out to be false, yet teachers are offered no protection and the effect on them can be devastating.
The UTU said allegations must be investigated fully but the system must be realistic and fair.
The AQE and GL assessment tests were brought in by secondary schools after the 11 plus transfer test was withdrawn by the Department of Education in 2008.
The AQE test is used mainly by state-sector grammar schools while the GL assessments are used mostly by Catholic-maintained grammar schools.