Review bid granted over pleas in Gerard Devlin case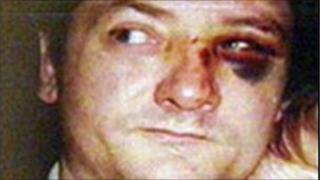 The family of a man stabbed to death in west Belfast has been given permission to challenge decisions to accept pleas to lesser offences than murder.
A judge has granted leave to seek a judicial review of practices used in dealing with those accused over Gerard Devlin's killing.
He identified delays in bringing the challenge, but ruled that issues raised merited more exploration.
Mr Devlin was stabbed outside his Ballymurphy home in 2006.
Five Notorantonio family members have pleaded guilty to offences linked to the case.
Francisco Notarantonio, 23, of Whitecliff Parade, Belfast, was jailed for 11 years after admitting a charge of manslaughter.
Four other members of the Notarantonio family pleaded guilty to affray and received sentences ranging from a one-year suspended term to two years' imprisonment.
A full hearing of the legal challenge will now take place in June.
Lawyers for Mr Devlin's partner, Aine McMahon, who brought judicial review proceedings, criticised the failure to consult with the family before lesser pleas were accepted from the suspects on the day they were due to go on trial.
They argued that the challenge raises important issues about the rights of victims within the criminal justice system.
Ultimately, the family and their legal representatives want full access to the case papers and the decision-making process involving the police and Public Prosecution Service.
Mr Justice Treacy stressed that granting leave to apply for a judicial review was no indication of the likely outcome of the case.