Rain nightclub in Belfast has its licence reinstated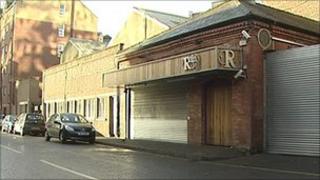 A Belfast nightclub has had its entertainments reinstated by Belfast City Council following its suspension in February.
Rain nightclub in Tomb Street had its licence suspended over alleged breaches, including overcrowding.
On one night council staff found it had exceeded its capacity by more than 300.
At a council licensing meeting on Tuesday, members were told changes had been made to ensure the club operated within the terms of the licence.
The suspension of the entertainments licence in February did not prevent the nightclub from operating.
The club could continue to serve drinks but could not put on any form of entertainment, including DJs, until the suspension was lifted.
The night club did close its doors completely at one point.