Kerr murder overcomes decades of suspicion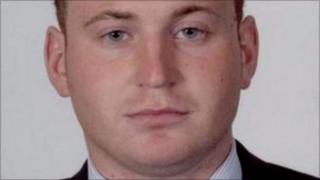 The significance of the symbolism should not be underestimated.
Police officers and Gaelic Athletic Association (GAA) members together, helping to carry a friend and colleague to his graveside.
Ronan Kerr, who was murdered by dissident republicans outside his Omagh home on Saturday, straddled both worlds, worlds that a few years ago, would have been almost mutually exclusive.
Yes, during the worst days of the Troubles there were always some Catholic officers who continued to play Gaelic games.
But it was at a risk to their personal security and needed a blind eye from clubs who were supposed to follow a rule that banned security force members.
Rule 21 as it was known, was put in place in 1897 when it was suspected that the former Royal Irish Constabulary was trying to place informants in the ranks of the GAA - then part of a growing nationalist movement on the island.
The Troubles copper-fastened the mutual suspicion. GAA members complained of police harassment at checkpoints on the way to matches.
GAA clubs, cups and competitions were named after dead republicans, reinforcing the view in unionist circles that the association was as much about politics as it was about sport.
Change came slowly. In 2001, the GAA overturned Rule 21 at about the same time that the PSNI was formally established out of the RUC.
It was four more years before the PSNI established its own GAA team, playing in college competitions.
Catholic recruitment to the new service was steady, but the endorsement of the new policing structures by Sinn Fein was the last remaining obstacle to nationalist engagement with the PSNI.
It paved the way for many young men and women, who were already GAA members, to consider a career in the police.
That led to a broad acceptance of the service amongst the GAA fraternity - exemplified not only by the minute's silence for Ronan Kerr before last weekend's Tyrone National League match - but the manner in which it was observed.
A century of suspicion between the GAA and the police is being overcome, a large part of it laid to rest with the body of a young man, who served both traditions.