Ronan Kerr murder: Graffiti lauding bomb 'disgusting'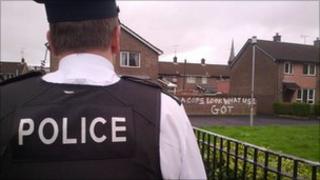 Graffiti praising the murder of PSNI constable Ronan Kerr and threatening further attacks has been daubed on walls in Londonderry.
The slogans were painted in the Bogside estate, an area with a predominantly republican population.
One read: "GAA cops, look what use (sic) got". It refers to Constable Kerr's membership of a Gaelic football club.
The graffiti is being painted out and has been condemned by politicians.
Constable Kerr, 25, was killed when a booby-trap bomb exploded underneath his car in Omagh, County Tyrone on Saturday afternoon.
Dissident republicans have been blamed for the attack.
They are opposed to the police and have repeatedly targeted officers in both gun and bomb attacks.
They are believed to be deliberately targeting Catholic officers in order to try to deter Catholics from joining the PSNI.
Last year, Peadar Heffron, a Catholic officer who played for the PSNI Gaelic football team, lost his legs in a similar booby-trap bomb attack.
Outgoing SDLP MLA Pat Ramsey said that it was the second day that such "despicable and disgusting" slogans had appeared.
'Outraged'
He added: "People really are outraged by this.
"This is not indicative of the feeling among the people of the Bogside and that is why those responsible skulked around in the dark of night and did their deed.
"They are not standing up and saying it, they are using the same cowardly tactics of those who callously murdered Pc Kerr.
"The people of the Bogside are angry this morning, they have been angry since Saturday, just like the rest of the north.
"They do not deserve to be tarnished with this and the good name of PC Kerr does not deserve to be tarnished like this."
Constable Kerr's funeral is due to take place on Wednesday and will be attended by NI First Minister Peter Robinson as well as Irish prime minister Enda Kenny.