Ronan Kerr murder: explosives 'extremely powerful'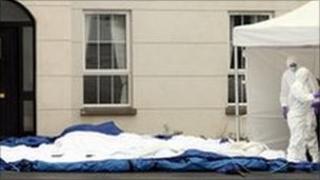 A former bomb disposal expert has said that the type of plastic explosive used in the murder of Ronan Kerr was extremely powerful.
Chris Hunter said that only a small amount would be needed in a bomb to make it devastating.
He added that he believed those under threat should be rigorous in checking under their vehicles.
He said such checks could deter terrorists from targeting them in the first place.
Constable Kerr, 25, died when a bomb exploded under his car in Omagh on Saturday.
Reconnaissance
The former soldier, who served in Iraq and Afghanistan, said the kind of booby-trap tilt-switch device believed to have been used in the murder, was known as a "victim-operated" device.
He said that terrorists were often put off targeting those who checked underneath their car.
"The terrorists will always carry out some sort of reconnaissance. If they see someone who checks their vehicle every day, then they are not going to put a device there," he said.
"A: because they know it is not likely to detonate and B: because they are going to be leaving a lot of evidence behind when the bomb disposal operators neutralise the device."
On Monday, Omagh police superintendent Raymond Murray said he believed the device had been contained in a small lunch box.
Mr Hunter said because terrorists had to plant a bomb quickly to avoid detection, it was more likely that it was within reach and would be easy to spot.
Checking underneath a vehicle made it easier to see that something was out of place, he added.
'Dickers'
However, he stressed that determined terror groups operated as a team and were extremely difficult to stop completely.
"Quite often these devices are placed in the middle of the night when there's nobody around - these guys will have dickers (look-outs) to make sure there are no members of the security services or members of the public around.
"Any determined terror group will get through in the end.
"After the Brighton bombing, we heard the notorious phrase 'We only have to be lucky once, you have to be lucky always'".
"But it is about deterrence. If the security forces all check under their vehicles, they are going to deter that type of attack."